The Bockenheim Network Rescues Margarete Knewitz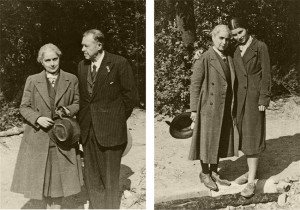 In 1944 Margarete Knewitz received a summons to be questioned by the Gestapo. Such hearings led to subsequent imprisonment and deportation. The people who were summoned were then confronted with construed charges, placed under pressure and worn down until they signed an admission of guilt. The information that this tactic was used against the "mixed marriage partners" in order to deport them had been spread around amongst the persecuted.
Margarete Knewitz's daughter Renate sought help from her friend Erica Ludolph, and she in turn contacted the reverends at the "Trinity Church", which belonged to the "Bekennende Kirche" (part of the protestant church against Hitler). Reverend Welke began preparing the escape. That very evening Margarete Knewitz no longer stayed in her own apartment, but rather her daughter Renate brought her to stay with the Impekovens, an actor family with whom she was friend. Welke started looking for a place of refuge. During this time, Margarete went into hiding at her friend Grete Kerler's house in Memmingen. With the help of the reverend Kurt Müller in Stuttgart it took ten days to obtain a substitute photo document in the name of "Margarete König" issued on 22 May 1944 from the community of Höfingen. Kurt Müller also found an even more remote hiding place. Müller's wife Illa Müller was staying with her sister Gertrud von Marschalck at the Ovelgönne estate in Hechthausen, and this is where Margarete Knewitz alias Margarete König was supposed to go into hiding.
Margarete Knewitz was accompanied by Erica Ludolph on the trip from Memmingen until close to Cuxhaven. The trip took four days and nights in these last months of the war, with overnight stays in various reverend's homes and a train trip, which brought with it its own complications. They traveled in the evenings in order to avoid the controls. As a train ticket only allowed trips of up to 100 kilometers this meant numerous breaks, stays and risks. After her arrival in Hechthausen Margarete Knewitz had to change her hideout four times and at the end of 1944 she left the Cuxhaven area and traveled via Bad Pyrmont to Stuttgart and to reverend Müller. She was registered as an air raid victim with the "Nationalsozialistische Volkswohlfahrt" (National Socialist Welfare Organisation) at the end of February 1945, at which time she received ration cards. Her husband Hugo Knewitz and daughter Renate avoided questioning and torture by the Frankfurt Gestapo by escaping to Ehrwald in Austria.
See: Petra Bonavita: Mit falschem Pass 
und Zyankali, Stuttgart 2009, pages 28-34.