The Bockenheim Network Rescues Hildegard Graebner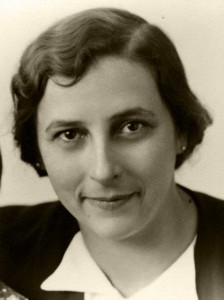 Hildegard Graebner recognized the danger of the Nazi race politics very early. She went to the Netherlands with her daughter Ilse in 1939, i.e. even before the start of the war in September. Hildegard lived with Ludwig Graebner in a "mixed marriage" and such marriages were considered "protected". However, during a control search a number of weaknesses were identified in her paperwork. Her marriage ceremony had been carried out in accordance with Jewish ritual. However, couples were classified as "dissidents" if they withdrew from the Jewish community shortly after their marriage. Only in 1939 did they join the Protestant-Lutheran Matthäus church community in Frankfurt along with their daughter Ilse.
Hildegard Graebner had a strenuous job in an old age home in the Netherlands before she and her daughter was taken in by the reverend Ottho G. Heldring in Zetten. The reverend had five sons amongst whom Ilse found compatible playmates. However, a shadow soon came over the reverend's peaceful home. News arrived from Cologne that Hildegard Graebner's parents and brother had been deported; an uncle in Arnheim was also deported. Reverend Heldring was taken captive by the Germans in 1942 and the "Joodsche Rat" in Amsterdam demanded that Hildegard register herself.
Hildegard and her daughter moved to different cities. The two women were registered as a "Jewish household" in The Netherlands. However, as Frankfurt offered Hildegard "dubious protection" as a mixed-marriage partner she decided to return to the city. That was in the middle of November 1942. Shortly after her return the Graebners turned to reverend Welke who looked for a way that Hildegard could escape. Not every refugee could be expected to handle the strain of such a trip, combined with an illegal border crossing, and Welke later wrote: "In recognition of this permanent danger I searched for new escape possibilities to Switzerland, but in light of Mrs. Graebner's ever worsening physical condition – in expectation of the superhuman hardships and nervous stress – this could not be considered." The helpers and Mrs. Graebner decided that she should stay in Frankfurt and only in case of a wave of arrests should Hildegard Graebner escape to relatives in Baden-Württemberg. Hildegard hardly left her apartment. Nevertheless, in late autumn 1944 a policeman showed up at her doorstep and inquired about her. There were luckily no further inquiries or orders to appear for questioning.
Thanks to Ludwig Graebner's unconditional loyalty to his wife, her own clever foresight, courage and perseverance, money and contacts, luck and coincidence, she survived the period of persecution and was able to experience the liberation.
Hildegard Graebner could consider herself saved, but the fear never left her. She was afraid of a new Nazi brown political party and fled a second time to Hulsberg, the Netherlands in 1967, this time together with her husband. Hildegard Graebner died there in 1975.
See: Petra Bonavita: Mit falschem Pass 
und Zyankali, Stuttgart 2009, pages 65-73.