The Bockenheim Network Rescues Maya Rhotert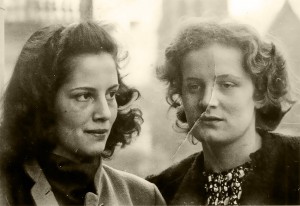 A father wants to protect his daughter, an understandable situation: from questioning by the Nazi authorities, from an obligation to work in the weapons industry, and finally from being arrested by the Gestapo in the last few months of the war.
Carl Rhotert's family was not unknown in Frankfurt am Main. Their store, "Schirmgeschäft (umbrella shop) Aloys Rhotert", located at Liebfrauenberg, had been there for decades. It was centrally located and a good address. The long tradition of this well established store would certainly have continued, but after the Nazis came to power other laws prevailed. Erna Rhotert, Carl Rhotert's jewish wife – long ago baptized -, was no longer acceptable. The small family with the 12-year-old daughter Maya fell apart. Erna Rhotert had to quit as managing director; her husband looked for an "Aryan" partner in order to enable his wife to live outside of Nazi Germany. She escaped to southern Tirol in October 1939. The couple separated in the same year and thereafter she escaped further to Switzerland. Erna Rhotert was scheduled to be sent back from Bern at the end of 1939, but luckily, she married Arthur Schaub, a Swiss citizen in February 1940, which permitted her to stay.
The daughter Maya who was 14 years old in the meantime suffered because of her mother's absence. She also had problems in school and a desired education at the "Städelschule" (art school affiliated with the Städel-Museum) was denied her as a "half-jewish".
Friends emigrated from today to tomorrow; the fate of family members was gruesome: an uncle and aunt managed, with great effort, to cross into the Netherlands; cousins were deported together with their parents from Cologne; other residents in their house were picked up early in the morning.
Maya spent an obligatory year working as a household-help. She was then supposed to start working in a company which was important for the war effort, because in autumn 1943 "mixed persons first grade" were scrutinized more and more by the Gestapo. Her father wanted to protect her from this measure. Maya had acted as a courier for the "Bekennende Kirche" (part of the protestant church against Hitler) during the last few years, but because of her fluency in French she was suspected of working for the French resistance.
An acquaintance who worked as an engineer and managed the Degussa branch in Waldkirchen offered to help her. The deregistration to Waldkirchen won her a bit of time, which lasted until the autumn of 1944. Her ID card was withdrawn on 6 November and she was supposed to be sent to a labor camp in Passau. The search for places to escape began. At the same time that she lived in the engineer's apartment in Waldkirchen her father Carl Rhotert and the reverend Heinz Welke planned her further escape.
Her mother and stepfather tried to help from Switzerland. Erna Rhotert-Schaub and her husband Arthur Schaub made several attempts to rescue Maya: "We tried to smuggle her into Switzerland with the help of a boatman from Mannheim but this failed; my husband (Schaub) swam across the Rhine to the German side twice near Wyhlen in order to get her. However, as we were not able to inform her in time and she was being watched this too was unsuccessful. An application for adoption by my husband remained unprocessed at the Swiss consulate in Chiemsee." Her escape finally succeeded after a plan was devised which involved marrying a young Swiss man.
Everything went wrong. The Gestapo followed her trail and she reached her final sanctuary, the "Gotisches Haus" in Bad Homburg, only after hastily departing with a truck hauling wood, in which she was disguised as a boiler man. She experienced the liberation close to a forest outside of the city.
She emigrated to the USA in 1947 together with her husband Eugene Jussek in order to escape all the bad memories.
See: Petra Bonavita: Mit falschem Pass 
und Zyankali, Stuttgart 2009, pages 41-51.