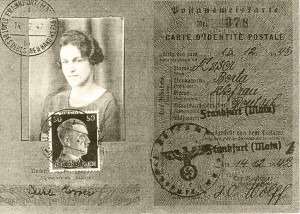 A confirmed rescue helper was the postal ID card. This substitute document for the former personal identity card was sufficient to pass the first control checks. Many survived with the substitute document. Siegmund Stein received a summons from the Gestapo in mid-June 1943. The anti-fascist had already survived several prison terms and had lost his company. The summons to appear in the Gestapo headquarters on Lindenstrasse was the signal to go into hiding. His wife reported him as "missing" at the police station; Siegmund Stein escaped to Vienna. Thanks to his anti-fascist contacts he was able to get a postal ID card in the name of Oskar Werm within two weeks. He survived illegally for two years in Vienna as a "submarine", the term, which was used to refer to those who had gone into hiding in Vienna, and returned to Frankfurt after 1945. In 1943 approximately 30 other people did not appear at the Gestapo headquarters after they had received their summons. Most of these people left Frankfurt. With the help from friends and relatives they went into hiding in Gmünden, Berlin and Hofheim, in Vogelsberg and in Rheingau. They were not registered with the police and lived without rations cards but exclusively from the support of couraged people.
Bertha Esser's husband had divorced her. She had therefore lost the protection of being married to a non-Jewish husband and the protective status, which a "mixed marriage" offered. In December 1942 Esser managed to obtain a postal ID card without the additional name "Sara" as had been required for a long time. She decided to escape when she was required to vacate her apartment on 12 January 1943 and proceeded to the communal housing located at Hermesweg 5. She escaped via Straßburg to Mulhouse in Alsace with the help of her friend Margarete Foessl-Neuland's family. They were Christian friends who helped her to escape in March 1943 and encouraged her to jump on a freight train that went to Switzerland.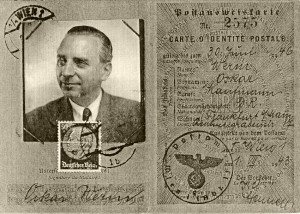 See: Petra Bonavita: Mit falschem Pass und 
Zyankali, Stuttgart 2009, pages 125-127 
and 110-113; see also how a postal ID 
card issued in Frankfurt/Main, helped Helga 
Frühauf to escape, in: Armin Schmid: Im 
Labyrinth der Paragraphen, Frankfurt/Main 
2006, pages 83-88.