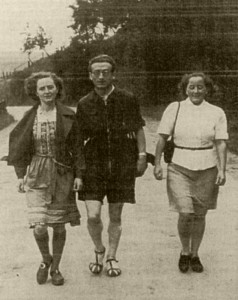 For decades it was commonly accepted that Valentin Senger's family was the only Jewish family, which remained undiscovered and survived in Frankfurt. In 1978 Senger wrote his autobiography "Kaiserhofstraße 12". He wrote how the police sergeant Otto Kaspar (1893-1964) managed to maintain the secret of the family's Jewish heritage from being uncovered with both, foresight and luck. The first step was the entry in the public registration records in the field "Religion". In this line he added the entry "previously catholic". The situation became more dangerous when in the summer of 1937 the father Jakob Senger waited in the meal distribution line at the Jewish Welfare Agency. When the SA came by and checked the identity papers his passport was confiscated and sent to the police precinct for review. Luckily, the passport ended up in the hands of police sergeant Otto Kaspar who brought it back to Olga Senger, along with a furious warning. Although Valentin's friends and most of the residents on Kaiserhofstraße were aware of the five member Senger family's circumstances it did not dawn on any of them to denounce the family for being "Jewish".
Dr. Hanf-Dressler, whom Valentin Senger visited in the 1940's because of a severe stomachache, noticed the religious circumcision but did not said anything and allowed the patient to go home. In 1944 towards the end of the war the sons Alexander and Valentin were recruited into the Wehrmacht. The recruitment doctor did not refer to their circumcision and thus they became part of the final Wehrmacht contingent. Valentin's father's boss at the company Fries knew of the Jewish heritage as did the latter's girlfriend Ionka. In the final year of the war Valentin's father took care of Russian prisoners of war. His usage of Yiddish idioms did not arouse any suspicion when contacting the authorities. The Sengers' true identity was never uncovered. No one denounced them within their circle of acquaintances.
But not all members of the Senger family endured these years with so much luck. Valentin's mother Olga died in October 1944 of heart failure. His brother Alexander did not survive the war. Valentin, his sister Paula and his father Jakob met the liberation with a lot of sorrow.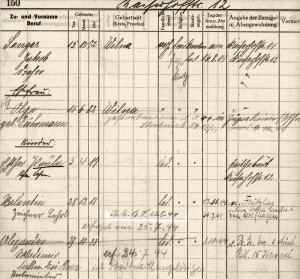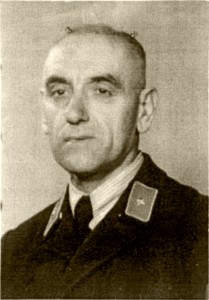 See: Valentin Senger: Kaiserhofstraße 12, Frankfurt/Main 2010 
and Rainer Wolffhardt's film from the Hessischer Rundfunk 
"Kaiserhofstraße 12". Otto Kaspar was honored for his rescue 
efforts, when the street behind the new police headquarters 
in Frankfurt am Main was renamed "Polizeimeister-Kaspar-Straße".